Per festeggiare la mia prima tappa ciclistica di 100 km (di cui qualcuno - in salita - fatto a piedi) voglio esporre un nuovo termine tecnico di questa disciplina sportiva che ho imparato recentemente.
Prima però vi consiglio un ripassino dell'altro termine studiato ormai qualche mese fa:
poi spiana
.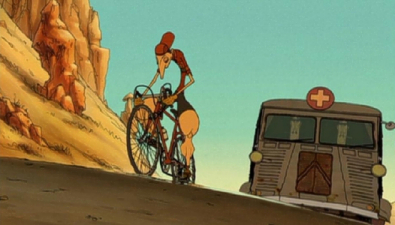 Anche questo nuovo termine si applica alle salite, e più che un termine, è una frase, e come per 'poi spiana' è anche una filosofia, un atteggiamento psicologico. Mi dice il mio compagno di pedalata infrasettimanale quando dopo 35 km cominciamo a tornare verso casa (due canzoni automaticamente mi vengono in mente e mi ritrovo a canticchiare durante certe uscite lunghe, e sono Take the long way home, dei Supertramp, e The long and winding road, dei Beatles); dice insomma il mio compagno:
"Ora le salite sono finite, ci sono solo degli
avvallamenti
nel terreno."
Ecco.
Avvallamento: sinonimo di salita.